2008 CD Calendar Revealed
Drumroll please!! ........................... And now, the moment you have all been waiting for, the 2008 CD Calendar Reveal! Hope you enjoy.
Please note that some of the kits used are freebies from various places, and some may no longer be available, just in case you go looking for them and can't find them.
2008 CD Calendar - January
Snowflake paper by Cheryl Whitesel, from the Snowy Winter Dreams Mega Kit

Snowflake corner cluster by Kay Northrup, from the January 2007 RAK Scraps Mega Kit

Mittens by Christy Heins, from the January 2007 RAK Scraps Mega Kit

Hat by Jan Bolton, from the January 2007 RAK Scraps Mega Kit

Snowman from Minnesota Memories Winter by Deborah Mommens

Snowflake frame by Barb Derksen

Alpha from Sparkling Ice Storm by Eva Kipler

Calendar stamp from 110 Years of Memories by Anita Stergiou


2008 CD Calendar - February
Font is Freebooter Script

Papers from Day at the Gallery by Robyn England

Heart doodle line and corner from A Beautiful Mess by Lisa Whitney

Calendar stamp from 110 Years of Memories by Anita Stergiou


2008 CD Calendar - March
Everything except alpha from various Dream Trip Freebies by Chris Beasley

Aqua embroidered alpha by Traci Sims

Calendar stamp from 110 Years of Memories by Anita Stergiou


2008 CD Calendar - April
Everything except paper tear from Love Notes and Add-On by Jan Hosford

Paper tear by Traci Sims

Calendar stamp from 110 Years of Memories by Anita Stergiou


2008 CD Calendar - May
Folded Corner Template by Karah Fredricks

All papers and elements from Ides of March Mega Kit, specifically:

Papers by Manu B. and Cheryl Whitesel

Strip cluster by Sunfire

Stitching by Athena

Metal fronds by L.C. Potts

Alpha by Sandra Adamson

Calendar stamp from 110 Years of Memories by Anita Stergiou


2008 CD Calendar - June
Chipboard Rounds Alpha by Misty Cato

Glitter wave from Cool Summer by Bren Boon

Rope by Barb Derksen

Sand paper and wave paisley from Ocean Blues by Amy Cheeseman

Shells from Beach Walk by Misty Cato

Calendar stamp from 110 Years of Memories by Anita Stergiou


2008 CD Calendar - July
USA fireworks by Michelle Coleman

Silver fireworks by Laura Alpuche

Everything else from the July 2007 RAK Scraps Mega Kit, specifically:

Background paper by Barb Eibel

Star border overlay by Kim Jensen

Sparkle ribbon by Lisa West

Alpha by Kim Jensen

Calendar stamp from 110 Years of Memories by Anita Stergiou


2008 CD Calendar - August
Background paper from Midsummer Swelter by Rina

Circular alpha by Jennifer Trippetti

All elements from Whimsy Blues Mega Kit, specifically:

Ribbon by Claudia Campbell

Jeweled flowers by Joanne Brisebois

Swirl flourish by Shandy Vogt

Butterfly charm by Laura Corzine

Calendar stamp from 110 Years of Memories by Anita Stergiou


2008 CD Calendar - September
Silver Gel Alpha from Free Digital Scrapbooking

Papers and elements from Summer's End Mega Kit, specifically:

Background Paper by Melissa Bennet

Floral doodle by Digital Couture

Cardboard flower by Eugenia Bacon

Crumpled leaves by Lindsay Jane

Ribbon and glitter sprays are unlabeled

Calendar stamp from 110 Years of Memories by Anita Stergiou


2008 CD Calendar - October
Papers from Hocus Pocus by Michelle Coleman

Folded Ribbon Template by Shelle Pukas

Broom from Halloween Stickers by Miranda Reinhardt

Felt Ghost from Spookie Cuties by Julie Bullock

Pumpkin from Pumpkin Patch Freebie by Bannerwoman

Circle edge overlay and grunge alpha by Heather Green

Calendar stamp from 110 Years of Memories by Anita Stergiou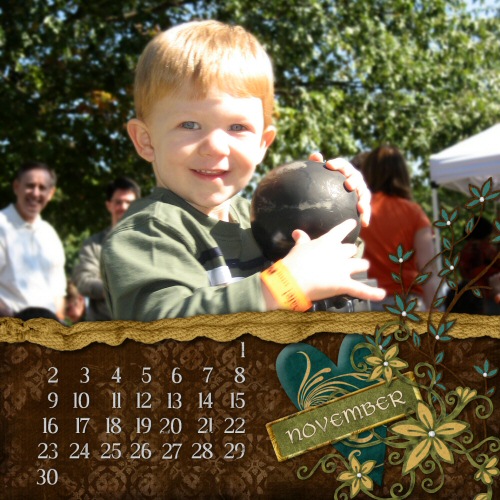 2008 CD Calendar - November
Font is Ale and Wenches BB

Everything from Family Riches by Eva Kipler and Jan Hosford

Calendar stamp from 110 Years of Memories by Anita Stergiou


2008 CD Calendar - December
Light strand from Light It Up by Gina Miller

Everything else from Believe by Lisa Whitney

Calendar stamp from 110 Years of Memories by Anita Stergiou

I also made calendars for a couple other folks, using their photos. I won't show you all of them, since I just popped different pictures into the same layouts you see above. However, the March layout didn't work for anyone but Luke, so I created two different March ones for the intended recipients (didn't use the St. Patrick's one for BIL and his wife because they got married in March, so how could I not do a special wedding themed layout?!). I found a great picture of Georgia for Leah's June page, but it didn't really work for wedding photos (their calendar is all wedding photos), so I also created a new June page for them. You can see those below:


2008 CD Calendar for Leah - March
Pot of gold sticker from St. Patrick's Day Mini by Mirranda Reinhardt

Shamrock border and Lucky shamrock from Green Dreams Collaboration by Amy Watson

Background matte and March shamrock from Green Dreams Collaboration by Michaele Burkhart

Calendar stamp from 110 Years of Memories by Anita Stergiou


2008 CD Calendar for Mike and Jennifer - March
Paper (gray) from Antique Floral by April Bern

Satin Curve from Black and White Wedding Kit 2 at Digital Scrapbook Place

Mirror alpha from March Madness blog freebie series by Anna Benjamin at Paper Moons

Ornate chain from Palais Royal by Lie Fhung (Ztampf)

Paisley from Paisley in Pink by Gloria Val Verde

Heart cluster from Silver Girl Frames by Amanda Rockwell

Black and White Flower by Misty Cato

Calendar stamp from 110 Years of Memories by Anita Stergiou


2008 CD Calendar for Mike and Jennifer - June
Everything from Antique Chic by Willowfaery Designs

Calendar stamp from 110 Years of Memories by Anita Stergiou

Labels: Luke